[To be held in Seoul in October through a hybrid online/offline format]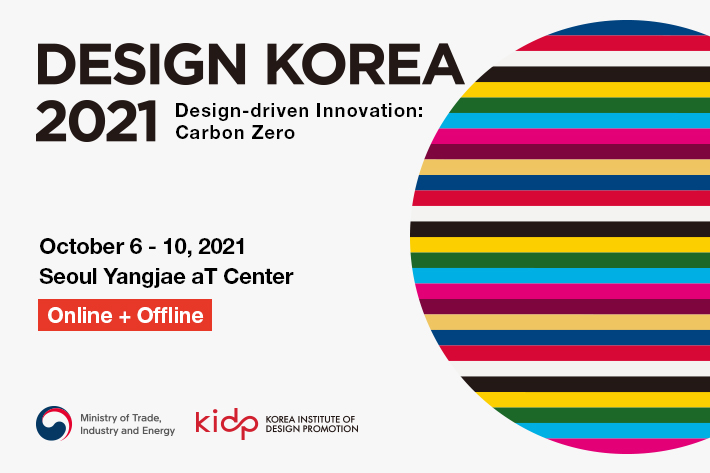 DESIGN KOREA, a leading design exhibition/convention event in Korea, will be held in Seoul from October 6-10. Under the theme of Design-driven Innovation: Carbon Zero, we will focus on environmental issues that have become important worldwide. Various exhibitions and seminars/talks on how design can contribute to achieving carbon neutrality will be held. Networking and business match-up events where companies, start-ups, and designers can interact with each other are also planned. In addition, there will be a job fair to help young designers find work.
Arranged in a way that combines online and offline events, DESIGN KOREA 2021 will provide an opportunity for design communities in Korea and around the world to gather together.
DESIGN KOREA 2021 Overview / Details
Dates: October 6 (Wed.) - Oct. 10 (Sun.), 2021
Location: Seoul Yangjae aT Center (https://www.at.or.kr/home/acen000000/index.action)
Format: Online & Offline
PR Partners: Dezeen (https://www.dezeen.com/) and DESIGN PRESS (https://blog.naver.com/designpress2016)
Official Website: https://dkf.kidp.or.kr/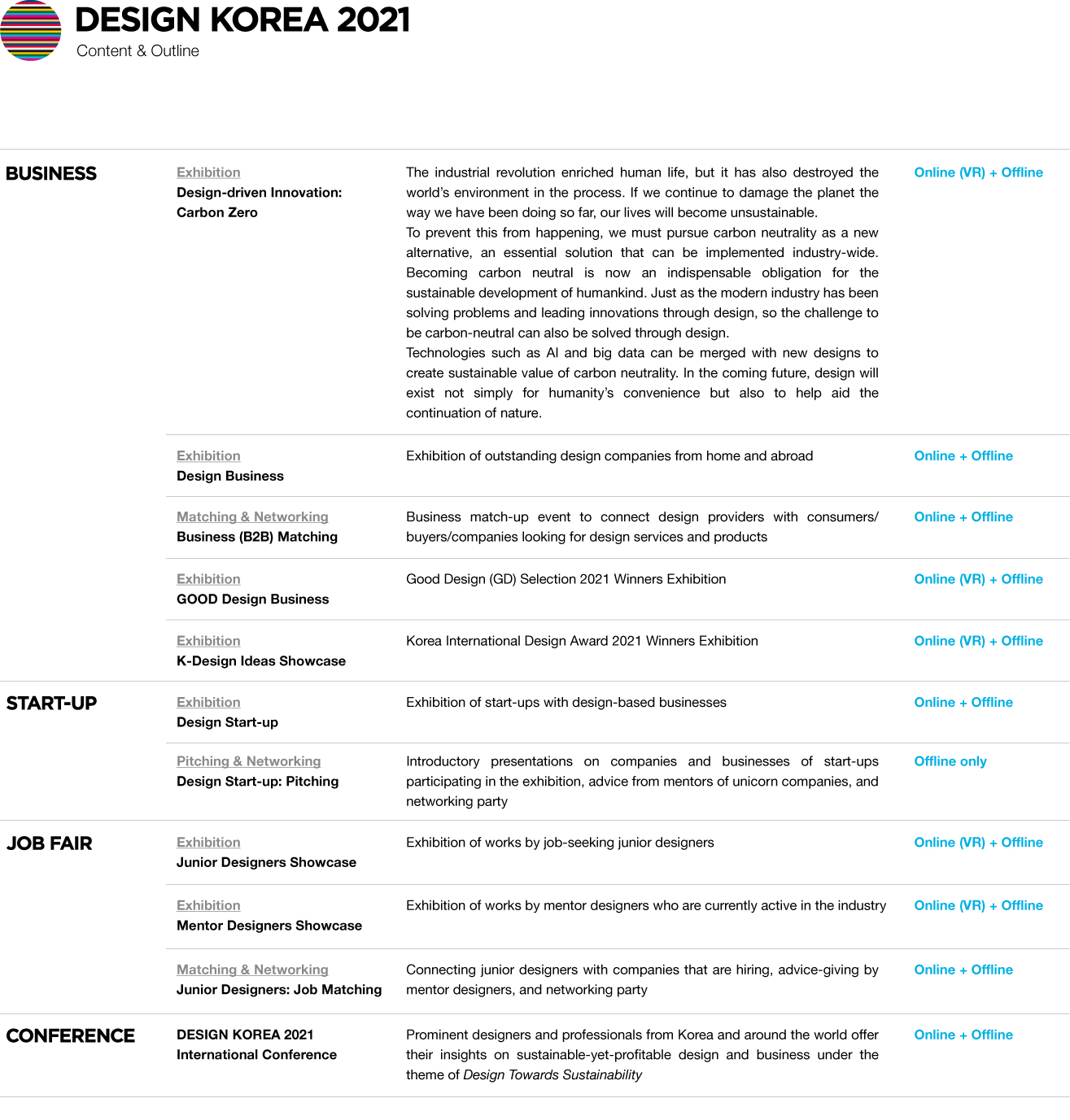 Guide to Visiting & Applying for Participation
1. Visiting

● Online: Anyone can visit the DESIGN KOREA 2021 website (https://dkf.kidp.or.kr/) at any time to view all of the related content without a separate application process. During the event period (October 6 to 10), different programs and exhibitions will be viewable in real time on the website. More information and updates on each program/exhibition will be provided soon, and a few of these will require prior registration (e.g., DESIGN KOREA 2021 CONFERENCE).
● Offline: Ticket reservations are now open!
Reservations can be made at the following link, and the payment will be accepted on-site in October.
https://booking.naver.com/booking/5/bizes/564567
2. Applying for participation

● For design companies interested in participating in the exhibition
- Please refer to the information on the DESIGN KOREA website link below and click the button at the end of the page to complete the application form.
https://dkf.kidp.or.kr/bbs/content.php?co_id=business_join

- You can also directly access the application form below:
https://docs.google.com/forms/d/e/1FAIpQLSfn2R90I2ngyfP98L3RMClFibqwyffpjSShb47se9ODSwEnkQ/viewform
● For 1) Buyers and distributors looking for outstanding products, 2) Companies/designers looking for Korean companies to work with, 3) Companies interested in hiring Korean young designers
- E-mail applications and inquiries are accepted.
dkf@kidp.or.kr
jino@alt-c.co.kr
3. Contact Information
● For any further inquiries, please get in touch with us through one of the following email addresses:
dkf@kidp.or.kr
jino@alt-c.co.kr
Stay tuned for updates on different programs of DESIGN KOREA 2021!

In the following weeks, more details will be provided for programs prepared as part of DESIGN KOREA this year.

This news will be delivered to you through our newsletter and social media channels.
KIDP Newsletter
https://eng.kidp.or.kr/eng/04_newsevent/02.newsletters.php
KIDP Social Media
Instagram: https://instagram.com/kidp_official_en
LinkedIn: https://www.linkedin.com/company/kidp
Facebook: https://www.facebook.com/Korea-Institute-of-Design-Promotion-KIDP-103065178607560/
Related Article