[Listening to voices from the field and finding emerging areas for future development]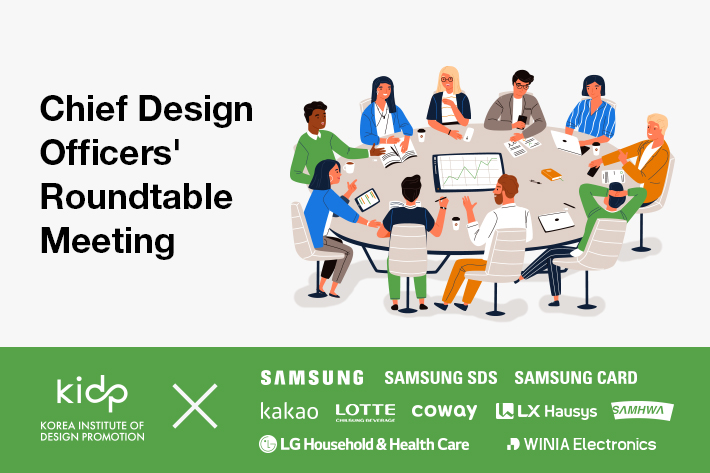 YOON Sang Heum, the new President of the Korea Institute of Design Promotion (KIDP), hosted a meeting with the Chief Design Officers (CDOs) of major large and medium-sized companies in Korea on July 15 as his first managerial act since he took office. The meeting was held via video-conferencing with the heads of design centers and creative directors from 10 companies, including Samsung Electronics, Kakao, Samsung SDS, and LG Household & Health Care.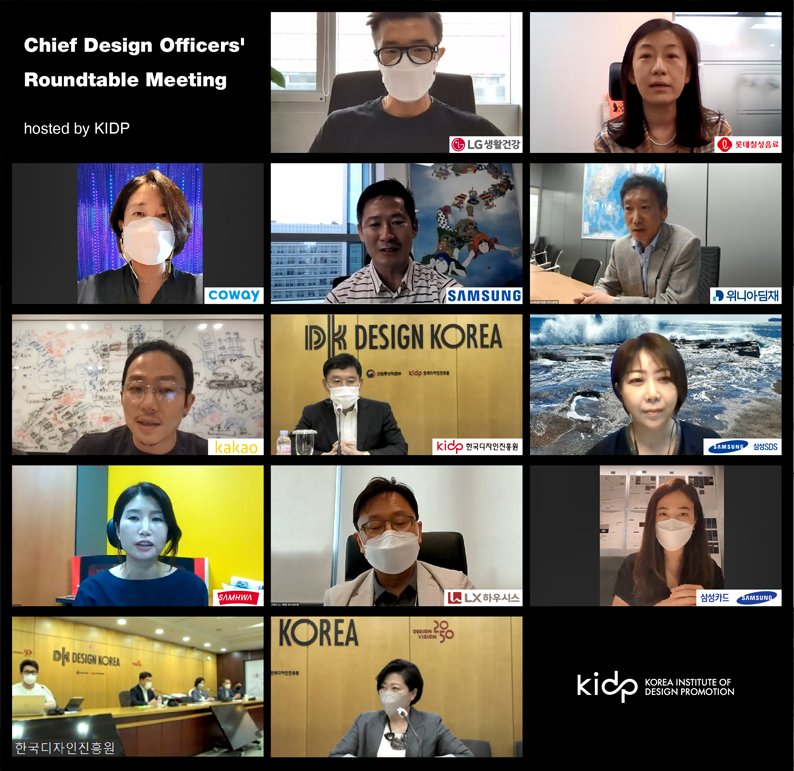 A paradigm shift in the industry and changes in the business environment
Participants first mentioned the paradigm shift in the industry, emphasizing that major businesses of enterprises are moving towards services and platforms. They also pointed out that extensive changes have been taking place in the industry in recent years due to environmental issues such as climate change and the COVID-19 pandemic. Regarding environmental issues, in particular, there was also a consensus that the social responsibility of design is growing. Therefore, since design is directly involved in the production of products or services, there is a need to establish appropriate design policies to meet these industry changes.
Recruitment and training of designers
In relation to hiring and personnel training, a recent phenomenon was observed that design majors are not only successful in the design field, but also in tasks related to other fields such as humanities, business, and so on. The CDOs cited the strengths of designers as being sensitive to social trends and changes, having a comprehensive understanding of the market and consumers, and the ability to use visual language to express their ideas more distinctly. Thus, it was suggested that it is necessary to create an environment wherein design majors who enter the workplace every year can be active in various occupations rather than solely design.
They also said they hope that recent changes in the industry and the market will be reflected in design education as there is still a gap between real-life situations and what is taught in universities.
Cooperative growth between large corporations and SMEs
In order to create a win-win situation for larger companies and SMEs/design agencies to work together, CDOs expressed their opinion that large companies should continue their efforts to give SMEs/design agencies more power when collaborating as well as sufficient rewards for their results. The CDOs also stated that design agencies should try to find ways to differentiate themselves from one another to have their unique expertise and individuality to offer.
President YOON Sang Heum closed the meeting by saying, "KIDP will establish policies that will practically help the industry so that design can respond more efficiently to changes currently taking place. We hope that companies utilize standard design contracts and design fee standards established by KIDP more widely to cultivate a healthier market environment, especially in terms of pricing."